Authentic Greek Tzatziki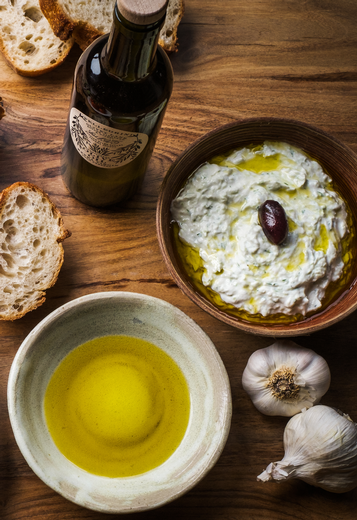 Recipe Date:
March 24, 2020
Measurements:
Imperial (US)
Greek Night by Krescent & Jasper. Tzatziki is a traditional part of meze, served as a cold appetizer or side dish. Pair with warm bread, grilled chicken or lamb, or chopped fresh veggies.
Ingredients
1 Large Cucumber
2 cups plain full-fat Greek yogurt (Stauss or Fage)
2 large garlic cloves, finely minced
3 tbsps 3 tablespoons extra virgin olive oil (reserve one for serving)
1 tbsp white vinegar
1/2 tsp salt
1/2 tsp black pepper
2 tbsps minced fresh dill
Directions
1. Grate the cucumber and drain through a fine mesh sieve overnight in the fridge. (Or, If you are in a time crunch, you can press the grated cucumber through cheesecloth to remove excess liquid)
2. Combine the yogurt, garlic, oil, vinegar, and salt in a large bowl.
3. Once the extra liquid is removed, transfer the grated cucumber and fresh dill to the yogurt mixture and stir to combine. Add additional salt and fresh ground pepper to taste.
4. Before serving, drizzle tatziki with remaining olive oil Garnish with a single kalamata olive.
Chef Tip: It's best if you can grate the cucumber and strain through a sieve overnight. If you do this, you can also let the yogurt mixture marinate in the fridge at the same time, which will mellow out the garlic and help incorporate all the flavors.