Heritage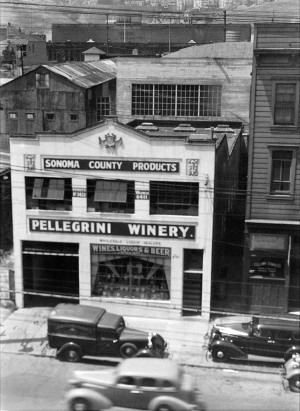 ➤ Early 1900s: Nello and Gino Pellegrini arrived in New York City from their native Tuscany, working their way across the United States to the California coast.
➤ 1925: Pellegrini became Sonoma County grape merchants, shipping grapes throughout the U.S. for home winemaking.
➤ 1933: Upon the repeal of Prohibition, the brothers were issued Winegrower License #4 and established their first bonded winery.
➤ 1950: Nello's son Vincent took over direction of the winery in the early 1950s, and expanded into wholesale distribution of imported and domestic wines and spirits.
➤ 1973: Vincent and his wife Aida purchased a 70-acre apple and plum orchard and eventually planted Chardonnay and Pinot Noir grapes.
➤ Late 1970s: Robert Pellegrini bottled the first
Olivet Lane Chardonnay, and the name took off. The vineyard became the grape source for many of the finest Russian River Valley Pinot Noir wines.
➤ 2001: The Pellegrini family built a state-of-the-art tuscan style winery upon their Olivet Lane Vineyard, which is today home to our central office and hospitality & visitor center.
➤ 2017: Alexia Pellegrini (4th Generation) takes the helm of the family business, running winery and vineyard operations.