Heritage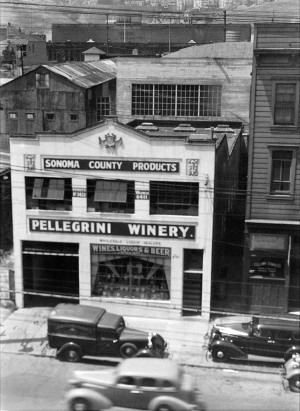 The Pellegrini family traces its heritage in winemaking to the early 1900s when brothers Nello and Gino Pellegrini arrived in New York City from their native Tuscany. They soon made their way to the West Coast and in 1925 became Sonoma County grape merchants, shipping grapes throughout the U.S. for home winemaking. In 1933 after repeal of Prohibition, the brothers established the original Pellegrini Wine Company, shipping grapes from Sonoma County and producing quality wines for many of San Francisco's finest shops and restaurants.
Nello's son Vincent took over direction of the winery in the early 1950s, and expanded into wholesale distribution of imported and domestic wines and spirits.
In 1973, Vincent and his wife Aida purchased a 70-acre apple and plum orchard on West Olivet Road in Santa Rosa. They converted this prime Russian River Valley property to grape vines, and Vincent had the foresight to plant Chardonnay and Pinot Noir. In the late 70s, Robert Pellegrini named his first wine Olivet Lane Chardonnay, and the name took. Olivet Lane was one of the first Pinot Noir estates in the Russian River Valley, and over the years has been the grape source for many of the Valley's Pinot Noir luminaries, in addition to the family's own award-winning Olivet Lane Vineyard Chardonnay and Pinot Noir production.