Heritage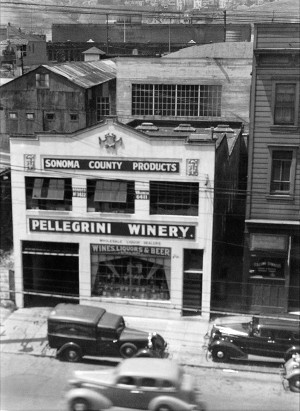 THE PELLEGRINI FAMILY has been associated with every tier of the wine business since the early part of the 20th Century — as wine producers, grape sellers, importers, and wholesale distributors. In 1915, Nello Pellegrini immigrated from Italy, eventually landing in the Santa Rosa Plains, a sister city to his home town of Lucca, Tuscany. In 1925, the first Pellegrini wine was made from Sonoma County grapes in a gravity run winery in San Francisco. Upon the repeal of Prohibition in 1933, they were issued Winegrower License No.4.
In 1972, Vincent & Aida Pellegrini purchased a 70-acre plum and apple orchard on West Olivet Road in the Santa Rosa Plains. The first vines Pinot Noir and Chardonnay were planted in 1975, using heirloom Martini and Wente Clones respectively, establishing Olivet Lane Vineyard as one of the first Pinot Noir pioneers in Russian River Valley.
THE RUSSIAN RIVER VALLEY In the early 19th century, immigrants from Mediterranean countries descended upon the region, planting the first vineyards. Its proximity to the coastal influences of the Pacific Ocean makes it ideal for the growing of Pinot Noir. The region officially gained AVA status in 1983, recognizing this area as one of the premier unique cool climate growing regions in Sonoma County & California.
50 YEARS after its first vines were planted, Olivet Lane is home to the region's oldest still producting Pinot Noir vines. The secret to its longevity is being blessed by the perfect combination of terroir and climate. Widely recognized as a prime example of the classic style of Russian River Valley Pinot Noir, it has been the grape source for many of the Valley's Pinot Noir luminaries — Williams Selyem, Merry Edwards, Gary Farrell, Darioush — in addition to our own acclaimed Olivet Lane Vineyard Chardonnay and Pinot Noir.
OLV was faithfully tended to by third generation Robert Pellegrini for three decades. Today, it is Nello's great-granddaughter Alexia Pellegrini who oversees stewardship of Pellegrini-Olivet Lane.
Historical Timeline
➤ Early 1900s: Nello and Gino Pellegrini arrived in New York City from their native Tuscany, working their way across the United States to the California coast.
➤ 1925: Pellegrini became Sonoma County grape merchants, shipping grapes throughout the U.S. for home winemaking.
➤ 1933: Upon the repeal of Prohibition, the brothers were issued Winegrower License #4 and established their first bonded winery.
➤ 1950: Nello's son Vincent took over direction of the winery in the early 1950s, and expanded into wholesale distribution of imported and domestic wines and spirits.
➤ 1973: Vincent and his wife Aida purchased a 70-acre apple and plum orchard in Russian River Valley, with the purpose of establishing a vineyard.
➤ 1975: Vineyard is planted. 40 acres of Chardonnay and 20 acres of Pinot Noir grapes. At this time, there are only 500 acres of Chardonnay planted in all of California. Planting Pinot Noir was considered experimental.
➤ Late 1970s: Robert Pellegrini bottles the first Olivet Lane Chardonnay, and the name took off.
➤ 1983: Russian River Valley becomes an officially recognized American Viticultural Area (AVA).
➤ 2001: The Pellegrini family built a state-of-the-art tuscan style winery upon their Olivet Lane Vineyard, which is today home to our central office and hospitality & visitor center.
➤ 2017: Alexia Pellegrini (4th Generation) takes the helm of the family business, running winery and vineyard operations.