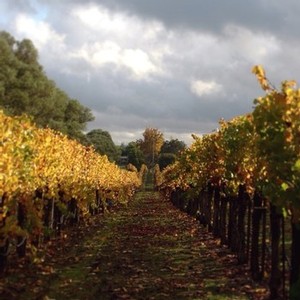 Olivet Lane Vineyard
Named for the mature olive trees lining the entrance, the Olivet Lane Vineyard features heritage plantings of Chardonnay and Pinot Noir which are valued as a source for some of the appellation's most acclaimed wines. Approximately half of the 60 planted acres are dedicated to the Wente selection of Chardonnay, with the balance planted to the Martini selection of Pinot Noir, a clone now considered as an "heirloom" clone. We are passionate about sustainable farming, and are dedicated to improving our practices to better the environment in which we grow.
The Olivet Lane Vineyard is distinguished by the maritime fog influence sweeping up from the Pacific through the Petaluma Gap to the South. Located just east and above the low-lying Laguna de Santa Rosa plain region, the Olivet Lane Vineyard features an undulating benchland of well-drained, gravelly, clay loam soil. The fog that defines our growing region lingers in our neighborhood, protecting it under a cool white blanket from evening through the morning. These long, cool nights extend the growing season, creating the opportunity for the grapes to ripen slowly and reach their full flavor potential while retaining their natural acidity, producing wines that are elegant and age-worthy.
---
Vineyard Information

Acreage: 60 total acres of Pinot Noir & Chardonnay
Exposure: Various ― undulating plain
Soil type: Gravelly, clay loam
Positioning: North to South
Topopgraphy: Rolling Benchland
Elevation: 150 feet
Year planted: 1975
Rootstock: AxR1
Scion wood clone: Martini / Wente
Vine spacing: 8 x 12 feet; vertical trellis
Trellising: Cane pruned VSP (vertical shoot positioning)
Appellation: Russian River Valley
Irrigated: Yes
Cover crop: Rotating
---
---