About Us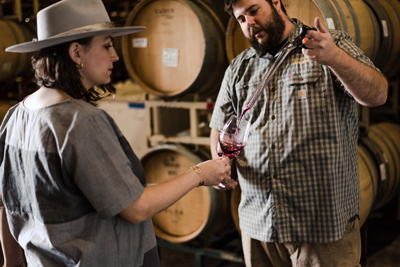 PELLEGRINI WINES have earned a reputation for consistent quality. Our wines are produced from grapes sourced from select Sonoma County vineyards, including our Olivet Lane Vineyard. Our winemaking style emphasizes balance over power and exhibits regional characteristics representative of the appellations. The Russian River Valley & Sonoma Coast vineyards we source from feature their own unique microclimates, soil profiles, and clonal selections, adding complexity to our portfolio of wines. In addition to our appellated blends, we produce and bottle unique small lots of single vineyard and rare varietals to share with our wine club and visitors to our cellar door.
FOURTH GENERATION vintner Alexia Pellegrini is General Manager of Pellegrini-Olivet Lane, continuing to build upon the Pellegrini legacy in wine. She oversees all operations of the business, with a significant portion of time dedicated to working the land. Since her first harvest in 2000 at Penfolds in South Australia, she has contributed years to working in each division and tier of the wine business. She earned her BA in Graphic Design from Art Center College of Design, and an MBA in Wine Business from Sonoma State University.
WINEMAKER Charlie Fauroat joined the Pellegrini winemaking team in 2013, earning his way from Cellar Master to Assistant Winemaker to Winemaker. Feeling privileged to work with the stellar fruit of Olivet Lane Vineyard, he is excited to share his passion for making wines representative of a place and time. He loves the art, science, hard work, and people in wine. Growing up in Ventura, he was born more into avocado country than wine country. Moving to Sonoma County in 2007, he earned his bachelor's degree in Wine Business from Sonoma State University. Before arriving at Pellegrini, he worked in the cellars at Bella Vineyards in Dry Creek Valley, Vavasour Winery in Marlborough New Zealand, Bird in Hand in the Adelaide Hills of South Australia, and Williams Selyem and DuMol in Russian River Valley. In addition to a great palate for wine, Charlie is a truly talented chef, specializing in meat curing & asian cuisines.
---
---