Greek Salad with Ouzo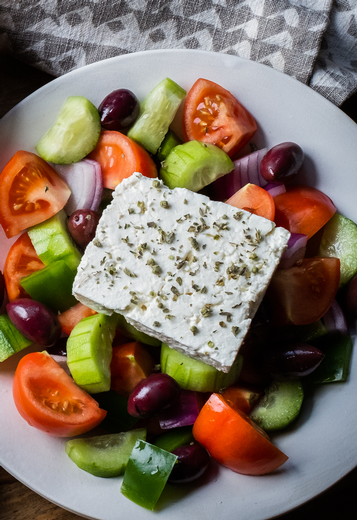 Recipe Date:
April 1, 2020
Measurements:
Imperial (US)
"Greek Night" Recipe No.2 by Krescent Carasso and Jasper Speicher — Known as horiatiki, this traditional Greek salad is a staple mediterranean side dish. Made with cherry tomatoes, cucumber, kalamata olives, red onion, and feta.
Ingredients
1/3 lb feta cheese in brine
10 ripe tomatoes, small to medium
1 cucumber, chilled
1 green bell pepper
1/2 red onion
1 cup kalamata olives, preferably stone-in
1 tbsp capers, drained (or rinsed if packed in salt)
3 sprigs fresh oregano
6 tbsps extra virgin olive oil
2 tbsps red wine vinegar
1 tbsp ouzo
Directions
1. Coarsely chop red onion. In a bowl combine vinegar, ouzo, and half of the olive oil and then stir in the chopped onion. Leave to sit at least 20 minutes.
2. Cut the tomatoes into bite sized pieces, sprinkle with salt and set aside.
3. Peel the cucumber and core the bell pepper. Chop into bite size pieces.
4. Pick oregano leaves off springs and roughly chop. If refresh oregano is not available, substitute 1/2 tsp of
dried oregano.
5. Assemble cucumber, tomato and bell pepper on a platter. Add capers, olives, and onions, (reserving soaking liquid). Whisk the remaining oil into the soaking liquid and use to dress the salad, along with most of the oregano.
6. Cut the feta block into thick slabs. Arrange on top of the salad and sprinkle with the remaining oregano.
Chef Tip: Greek salad is all about the produce, so make sure to start with high quality, ripe tomatoes. Ouzo can be substituted with other asise-flavored liqueurs, such as sambuca, liqueur pastis such as Pernod, vodka infused with anise seeds, or, for a non-alcoholic substitute, white wine vinegar or lemon juice.