Grilled Branzino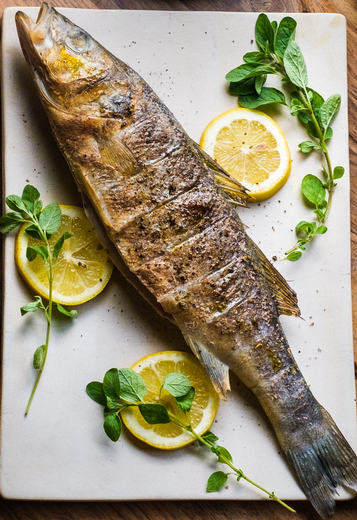 Recipe Date:
April 1, 2020
Measurements:
Imperial (US)
"Greek Night" Recipe No.1 by Krescent Carasso and Jasper Speicher — Whole grilled fish is a hearty dish, featured on many Greek tables and menus. Branzino, also known as European sea bass, is classic, though this recipe works with any fresh whole fish.
Ingredients
15 ozs whole branzino fish
10 fresh oregano sprigs
2 lemons
4 tbsps olive oil
1/2 tsp fresh ground pepper
1/2 tsp salt
Directions
Chef Tip: When selecting a fresh fish from your local market, the fish should be fresh caught within the last one or two days, and the eyes should be clear and shiny. Request fish to be scaled and gutted, with bone-in.
1. Light and preheat grill. If not grilling, see Oven Method below.
2. Slice one lemon into 1/2" circular slices and set aside.
3. Prepare the lemon-olive oil dressing. Juice second lemon into small bowl. Add 4 tablespoons olive oil and whisk. Set aside.
4. Prepare the fish. Fully cleaned and scale. Leave bone in. Rinse with cold water. Pat dry inside and out.
5. Inside of fish, sprinkle a pinch of salt, and stuff with half of the lemon slices and some oregano sprigs. Set aside 1-2 sprigs for serving.
6. Drizzle olive oil on both sides of fish, and rub with sprinkle salt and pepper.
7. Place fish in a grill basket, and place on the hot grill, and cover with lid.
8. For propane grills, lower flame to medium height. For charcoal grills, open top vent halfway. Cook each side, 5-10 mins until skin is crisp and starts to blister.
9. Remove fish from heat and lay on serving platter.
10. Top fish with lemon slices and oregano leaves. Generously drizzle with lemon-olive oil dressing.
11. Serve whole fish with two serving spoons. Debone at table while serving. As desired, dizzle plated portions with remaining dressing or olive oil.
Oven Method: Preheat oven to 450-degrees. Lay fish on baking sheet lined with parchment paper, and bake for 20 minutes.